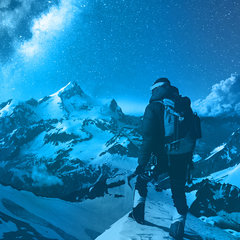 Polar Capital Holdings plc ("Polar Capital" or the "Group"), the specialist active asset management group, today provides its regular quarterly update of its unaudited statement of Assets under Management ("AUM") for the financial year to 31 March 2022.
Group AuM (unaudited)
Polar Capital reports that as at 31 March 2022 its AuM were £22.1bn compared to £20.9bn at the end of March 2021, an increase of 6% over the period. During the period, AuM increased by £1.2bn which comprised net inflows of £0.4bn, and an increase of £0.8bn related to market movement and fund performance.
| | | | | |
| --- | --- | --- | --- | --- |
| AuM movement in twelve months to 31 March 2022 | Open ended funds | Investment Trusts | Segregated mandates | Total |
| AuM at 1 April 2021 | £16,579m | £3,867m | £417m | £20,863m |
| Net subscriptions/(redemptions) | £(544)m | £190m | £745m | £391m |
| Market movement and performance | £555m | £321m | £(9)m | £867m |
| Total AuM at 31 March 2022 | £16,590m | £4,378m | £1,153m | £22,121m |

Gavin Rochussen, Chief Executive, commented:
"A combination of net inflows, market uplift and outperformance enabled our AuM to increase by 6% over the financial year from £20.9bn to £22.1bn.
"Despite the market backdrop, net flows over the financial year have been resilient with notable success in the net funding of segregated mandates amounting to £745m, taking total segregated AuM to £1.2bn, which now represents around 5% of total AuM at 31 March 2022.
"Our diversification strategy is yielding results with net inflows in the quarter of £230m into our sustainable Emerging Markets Stars and sustainable Smart Energy and Smart Mobility strategies. This includes an early success in the funding of a segregated mandate for the sustainable Smart Energy strategy.
"Over the year there has been strong progress in increasing the exposure Polar has in strategies other than its core Technology funds. The rotation away from high-growth stocks and pandemic winners has seen net outflows of £1.3bn from the Technology funds, though these have been more than offset by net inflows of £873m into the Polar Capital Sustainable Emerging Market Stars strategy, £561m into the Healthcare strategy, £143m into the Convertible funds, £85m into the European Opportunities fund and £120m into the recently launched sustainable Smart Energy and Smart Mobility strategy. A healthy proportion of these inflows has been from regions and clients who are new to our business, a further success of our diversification strategy.
"With the onset of inflation and more hawkish central bank policy globally, rate rise expectations have caused higher growth equities to de-rate. This impacted our larger sector-focused strategies such as Technology and Healthcare in the short term. Shorter term fund performance across our fund range has consequently been challenging with 43% of our funds outperforming benchmark over the calendar year to 31 March 2022.
"Longer term performance remains strong with 84% of AuM in our UCITS fund range ranked in the top two quartiles against peers in the Lipper universe over three years.
"Tightening rates and the invasion of Ukraine led to investors reducing weightings to riskier growth asset classes during the last three months. In the quarter, Polar had net outflows of £411m of which £630m were from our Technology funds. This was offset by net inflows of £170m into our sustainable Emerging Market Stars funds, £70m into the Insurance fund, £86m of share issuance by the Polar Capital Financials Trust and £60m net inflows into the recently launched sustainable Smart Energy and Smart Mobility funds.
"We recently announced that the Board of the two US mutual funds, Phaeacian Accent International Value Fund and the Phaeacian Global Value Fund, decided to close the funds with effect from 26 May 2022. The closure of the funds is immaterial to the core profitability of the Group and we continue to develop our U.S. footprint.
"The pipeline for flows remains strong for both our Emerging Markets Stars range of funds, which have sustainability at the core of their processes, as well as for the two recently launched Article 9 funds, Polar Capital Smart Energy Fund, and the Polar Capital Smart Mobility Fund, which form part of Polar Capital's sustainable investment strategies.
"It was also pleasing to see that Polar Capital scored well in the annual Broadridge survey of investment professionals. Within the UK, we were the 8th highest rank brand, the smallest group in the top ten and in the company of many much larger peers. Our approach has always been to deliver a specialist investment offering with a premium service to our clients and therefore, it was also pleasing to see Polar ranked number 1 for Thematic Equity in the UK and scoring top-ten positions for both client communication and client-oriented thinking.
"We remain confident that, with our diverse range of complementary funds and focus on performance in our actively managed strategies, we are positioned to continue to perform well for our clients and will continue to generate net inflows."
Polar Capital aims to announce its results for the financial year to 31 March 2022 on 27 June 2022.
For further information please contact:
Polar Capital
+44 (0)20 7227 2700
Gavin Rochussen (Chief Executive)
Samir Ayub (Finance Director)
Numis Securities Limited – Nomad and Joint Broker
+44 (0)20 7260 1000
Giles Rolls
Charles Farquhar
Stephen Westgate

Peel Hunt LLP – Joint Broker
+44 (0)20 3597 8680
Andrew Buchanan
Rishi Shah
Camarco
+44 (0)20 3757 4995
Ed Gascoigne-Pees
Jennifer Renwick
Monique Perks
Phoebe Pugh